Do you ever look at websites and feel that it'll be impossible for you to have a similar website? Surprise surprise – it is possible for you to design your own website using the right templates and choosing the best web hosting designs and themes!
You know you can design your own website but how do you choose the best web hosting theme for your website? With multiple options available online, we understand it can be confusing to find the right theme. There are multiple factors you should consider including the overall design treatment, the colour schemes, navigation, SEO-related features, client area functionalities etc.
To make the process easier for you – we've shortlisted the top 5 best web hosting themes for your website. The best part is, all these themes are WHMCS-friendly, meaning users can perform all the functionalities end-to-end:
Best suited for web hosting providers and other hosting-related services providers (SSL, VPN, Domain, VOIP, IPTV), HostX, a WHMCS Web Hosting template, is our most recommended web hosting theme.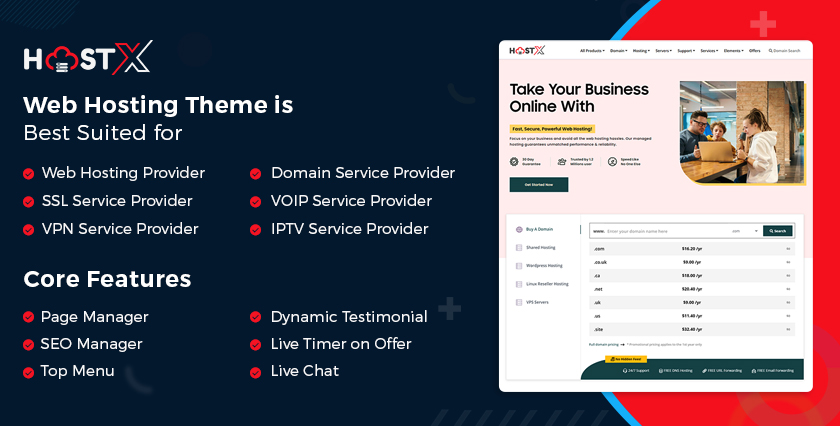 In addition to the fact that HostX is highly customizable, these are the main reasons why HostX is the best web hosting theme:
i. Page Builder Features
HostX offers an advanced page manager that offers all critical page builder features including intuitive navigation, managing and customizing pages along with different colour template options.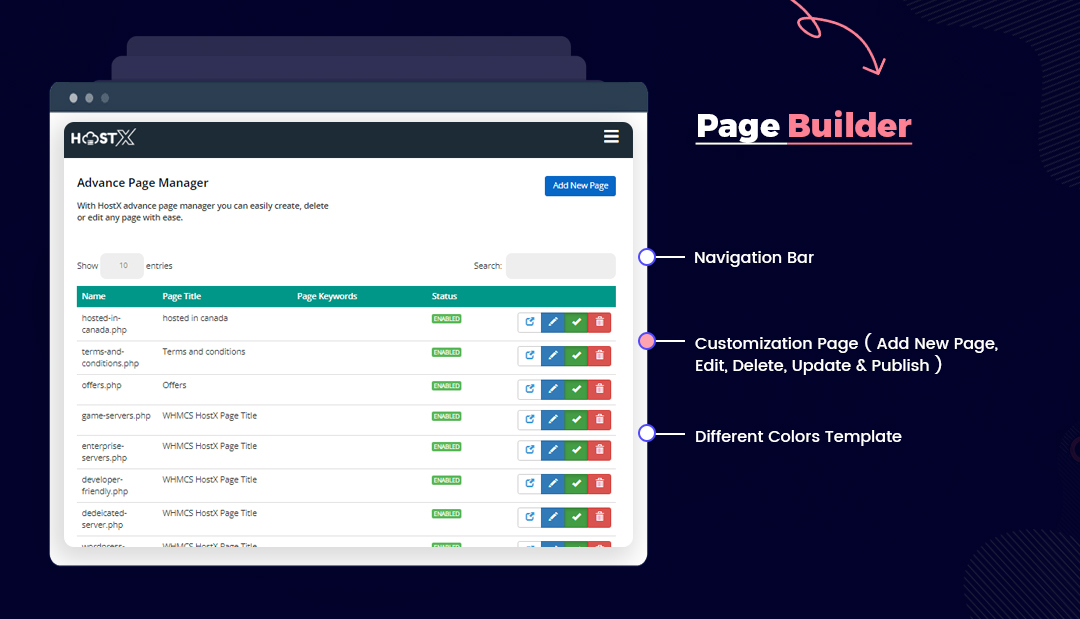 ii. SEO Features
Your website won't be any good if it isn't SEO optimized. Therefore, HostX offers features to manage your SEO including site map, meta tags, and other SEO elements that can be added as add-ons.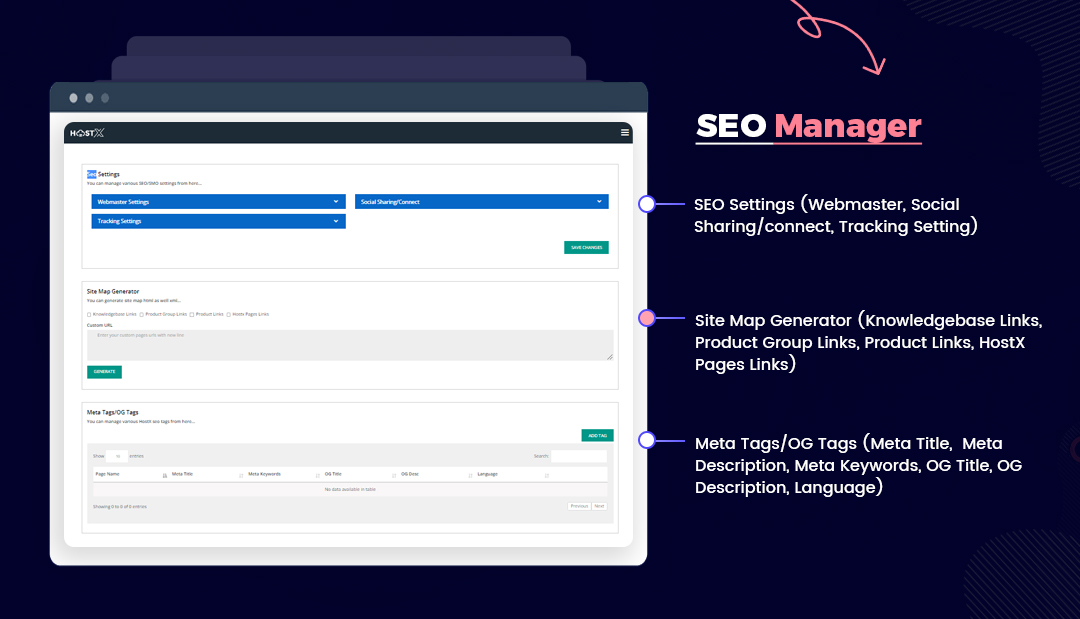 iii. Pricing Options
HostX offers 3 different pricing options depending on where how your business is placed. So you will pay according to what makes the most sense for your business. The pricing options include an option for startups (including bootstrapped), medium-sized businesses, and for professional companies that require the capability for more than 2 domain names. You can also upgrade to different pricing options as you scale your business.
iv. Location Specific Features
Thanks to internet – the world has no boundaries! And so HostX offers location specific features including the capability to set currency from backend. HostX also supports geoIP location. So with HostX, you can be assured that you are no longer location bound.
v. Other Attractive Features
HostX goes above an beyond in its offerings and is also RTL supported. What else? This theme is well suited for IPTV service providers and VPN service providers as well.
What makes HostX unique?
With HostX, the user area is included for certain products in addition to the client area. HostX also offers one-pay checkout while the default process that involves – package, configuration, sign up –  to improve users' buying process.
A custom user interface of ClientX offers site navigation with the ability to navigate the top menu and side menu. This client area template is best suited for both startups with a single website and enterprises with multiple websites.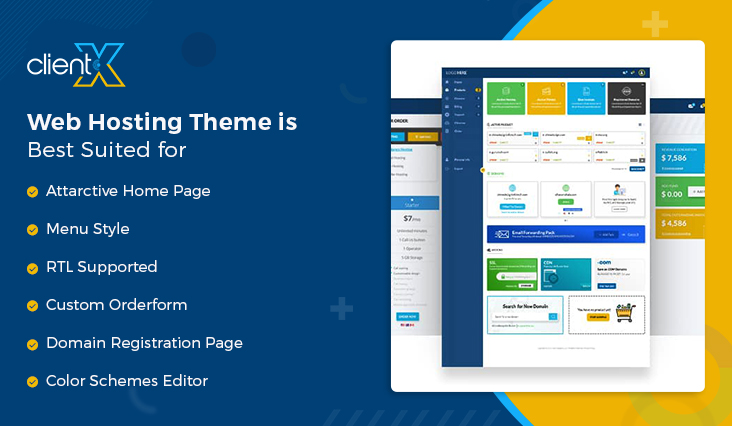 i. Homepage Features
For a seamless user experience, ClientX offers an attractive customizable homepage with menu options and a custom orderform.
ii. Dashboard Features
ClientX supports RTL, a colour schemes editor, and also domain registration. The theme also offers a new dashboard layout and dashboard management along with multiple styles to choose from.
Another client area template on our list is TwentyX, a child theme with a modern look and feel. If you have an eye for designs, you will appreciate the overall design treatment of this theme. Hence, this best web hosting design theme is best suited for you if you are looking for a mobile friendly option at a highly competitive price.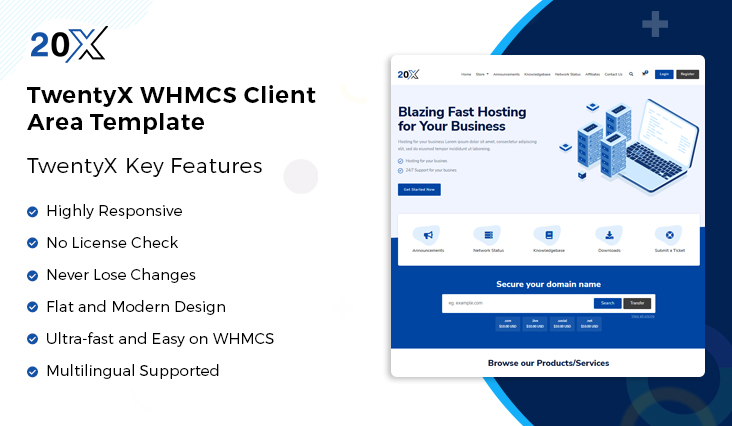 i. Responsive
The unique selling point of TwentyX is it's high responsiveness on different device types. It also offers multiple client page options for users. It is ultra light weight reducing the time for your users to open the site.
ii. Other features
TwentyX is compatible with multiple languages – you can support your website in multiple languages in different regions/locations. Also, as mentioned earlier, it offers a very intuitive design for end users to navigate through the website.
If you are looking to support a faster checkout through a WHMCS theme, VueJS + WHMCS One Step Checkout Orderform is your best bet. While the backend is designed by WHMCS, the frontend is designed by VueJS for 80% reduced checkout time. This theme is best suited for SSL/Hosting/Domain Service Providers, VPN/VPS Service Providers, VOIP Service Providers and IPTV Service Providers.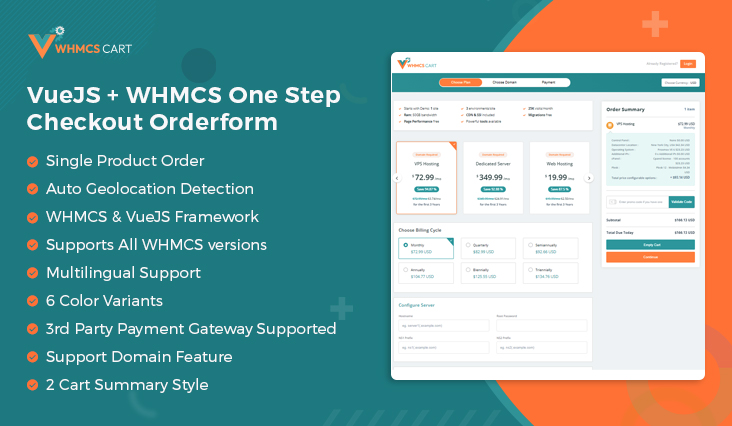 i. Conversion Rate
With this theme, your end users won't have to go through a series of steps to checkout. End users can directly checkout with one step in no time. This will increase your conversion rate by 30%.
ii. Other Features
VueJS + WHMCS One Step Checkout Orderform supports multiple languages and can auto detect geo location. Hence, you can use it globally. This theme also supports multiple third part payment gateways, making it even more efficient in terms of checkout process.
Another theme focusing on the conversion rate and reduced checkout time is WHMCS One Step Checkout Orderform. This WHMCS theme aims to make the checkout process for your users simpler and efficient. This theme is best suited for both startups with a single licence as well as enterprises with multiple website license.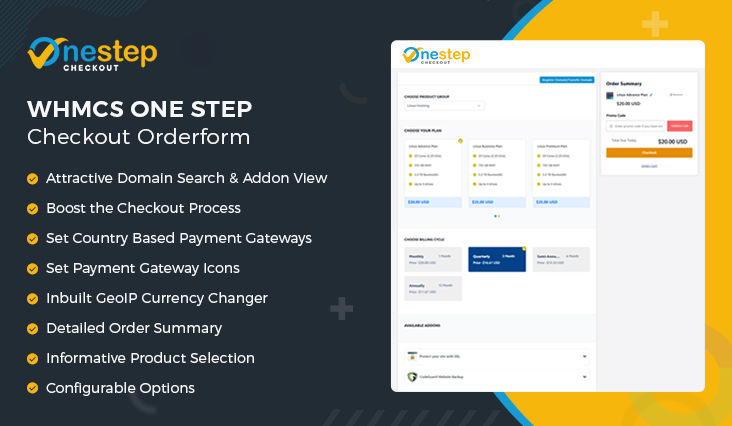 i. Payment Gateway
With this theme, you can set payment gateways based on the country and location of your offerings and of your users. You can also set Payment Gateway Icons from WHMCS Admin.
ii. GeoIP Currency
WHMCS One Step Checkout Orderform offers an inbuilt GeoIP currency changer. It also offers mini cart for mobile devices, a detailed order summary, and configurable options.
While all the above options are the top 5 best web hosting templates, each of them has its own unique selling points, the selection for the best theme will boil down to your criteria and needs. However, HostX is a clear winner as the best web hosting template with all its offerings for the web hosting providers. This fully customizable web hosting theme enables you to build your website within a day.